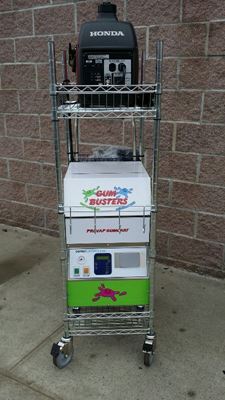 GumBuster Gum Removal Machine
GumBuster Gumcart Bundle w/ Generator and Carriage
INCLUDES - (GumBuster Provap Machine + Honda EU2000 Compliant Generator + Carriage with custom locking wheels to carry GumCart & Generator.  Also Includes the following Accessories (GumBuster Hose; Water & Detergent Canisters; 2 Extension Tubes; Short Nozzle; Wide Floor Brush; Triangle Brush; Squeegee Tool; 5 Detail Brass brushes Outdoor Use and 5 detail nylon Brush Indoor Use.
GumBuster's patented GumBuster  Machine combines steam with an environmentally safe, non-toxic cleaning solution that disintegrates gum and grime on any surface indoor or outdoor. The GumBusters Provap. System out-performs the traditional methods of scraping and harsh chemicals.  The gum is removed without disrupting normal business operations and eliminates those unsightly black spots from your sidewalk instantly. The GumBuster system can also be utilized to clean restrooms, tile grout, aluminum and stainless steel.
Compact and easy to transport, the GumBuster Provap Machine offers proven performance and reliability. The super-heated steam is delivered at over 300 degrees Fahrenheit at 7.0 bar pressure (90 PSI at the nozzle).
Currently, there is no commercially availablesubstitute or comparable competitive product with the same performance characteristics.
There is no other product that can meet the demanding need of removing gum with the method and speed of our Gum Removal System.
The Gumbuster system can also be used to clean and disinfect restrooms, tile grout, aluminum, stainless steel and to remove stickers.
GumBusters' proprietary cleaning agent AAA Gumfighter Solution is extremely effective and completely non-toxic.  The GumBuster gum removal system uses only  4 to 8 gallons of water per day.   Our patented system removes gum from virtually any surface — indoor or out — safely and efficiently.  The results are instant !
To order yours Now !     Click on the link Below and add to your shopping cart!
Or email   [email protected]
 Provap Gum Cart Specifications
Power Requirement                            110v or 230v Models 
Maximum Power                                 1750 Watts / 2600 W
Steam Pressure                                  9.0 Bar. Nominal
Boiler Capacity                                   3.4 litres
Boiler Material                                    RVS AISI 304
Heating Up Time                                 Approx. 5 minutes
Autonomy                                          Continuous Operation
Detergent Facility                                Yes
Detergent Tank Capacity                     15 Litres
Indicator for lack of water                   Yes
Cable Length                                      5 Meters
Machine Dimensions                            (cm) 49cmx43cmx105cm
Net Weight                                         36Kg
Shipping Weight                                  40Kg
Certification/Marking                            GS-TUV, CE, IPX4
Max. Boiler Temperature                      356 Degrees  Farenheiht  or 180°C
Adjustable Pressure Output                  Yes