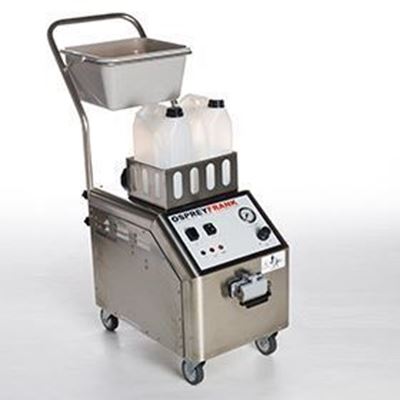 A small unit that packs a BIG punch!  400 volt 50Hz
Ideal for small-medium manufacturing & engineering environments the 3 phase SteamForce 6 unit delivers an impressive 150 grams of steam per minute.  It features a continuous boiler refill and an industrial quality steam socket for the toughest cleaning challenges.  The added benefit of a twin detergent facility is housed on the exterior of the machine for ease of change and there is accessory storage on the handle for easy and hygienic storing of tools and hose so they can be allowed to"air dry".
The SteamForce 6 can be upgraded with a vacuum kit for complete versatility.  The industrial wet/dry vac unit is supplied complete with steam & vacuum accessories alongside the steam only accessories supplied with the machine as standard.


Specifications
| | |
| --- | --- |
| Product Code | M6057 |
| Power Requirements | 400 volt 50Hz |
| Max Power | 5,500 W |
| Steam | 10 Bar |
| Boiler Capacity | 3.6 Litre |
| Boiler Material | RVS AISI 304 |
| Heat Up Time | Approx. 6 minutes |
| Autonomy | Continuous Operation |
| Detergent Facility | Yes |
| Detergent Tank | External 2 x 5 Litres |
| Indicator | Yes |
| Cable Length | 5 Metres |
| Machine Dimensions (W x D x H ( in cm)) | 50 x 82.5 x 100 |
| Net Weight | 32Kg |
| Ship Weight | 39Kg |
| Certification | CE IPX4 |
| Boiler Temp | 185C |
| Adjustable Presure | Yes |
| Hose Length | 3 m |
| Steam Output | Yes |