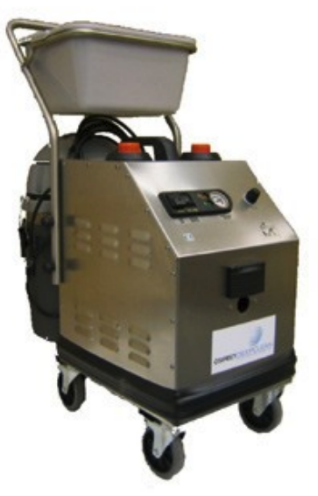 Revolution OSPREY DEEP CLEAN Steam Cleaner

 Steam Pressure

 85 PSI 

 Steam Temperature 

329° Degrees

 Boiler

.80 Gallons, Stainless Steel

 Boiler Steam-pressure

6 Bars

 Water Tank Capacity 

1.32 Gallon

 Maximum Power 

1,500 Watts

 Heating up Time

9 Minutes

 Power Vacuum 

Max. 1200 WATT 

 Autonomy 

Continuous Operation
New and Unique
The Revolution features a Safety transformer for the 12-volt function of the electric. Steam/water 
switch on the spray gun handle.
Cleans Deep Down

The Revolution Cleans and disinfects sanitary areas, catering equipment, tiles, radiators,
ovens, windows, carpets, upholstery and much more with adjustable
steam pressure up to 85 PSI. 
Environmentally Friendly
The force of the hot high pressure steam loosens dirt and grease from 
surfaces as well as from scratches, joints and other hard to reach places,
completely without the use of detergents.
Hygienic
Kills off germs, bacteria, mites, and bugs.
Versatility
There are fittings for different cleaning attachments, with the Revolution
there is a steam plus hot water rinse.
Safe
Pressure tank made of stainless steel. Copper tubing able to withstand
pressure up to 710 PSI. You will quickly appreciate how light, simple and
safe your REVOLUTION is to handle.
Why Steam?
5 reasons why you should use dry-steam cleaning:
Instantly clean and dry surfaces; saving costly time without leaving any unhygienic residue

Improved bactericidal efficacy; proven effective even against Super Bugs (like MRSA)

Environmentally friendly; reduced chemical usage and low water usage

User friendly; easy to use, ergonomically healthy and lowering cleaning associated risks

Cost saving; savings on time, water usage and chemical usage

OSPREY DEEP CLEAN
Steam Cleaning Technology

• Improved visual appearance 
• Instantly dry surfaces, ready for use
• Reduced chemical usage and associated risks
• Up to 40% reduction in labor costs

Facilities Management
Facilities management companies face the continual challenge of achieving the highest standards on
a daily basis using traditional methods, the main problem always being the lack of time to achieve the
desired end result.
Steam Cleaning Techniques 
The introduction of dry-steam cleaning techniques into most types of cleaning contracts will enable the 
contractor to achieve and maintain the highest standards that are required by clients in this ever challenging
market. The use of steam is seen by the client as being innovative, time saving and a solution to many
cleaning issues.
Cost Effective
Our range of professional hygiene systems will improve the standards of cleanliness and because our system
are so simple and efficient to use, the savings in labor costs alone can pay for the cost of equipment.
Environmentally Friendly
Our latest steam technology uses very little water and no harsh chemicals, so providing maximum
standards of cleaning and hygiene with minimum environmental impact.
SPECIFICATIONS:
| | |
| --- | --- |
| Electrical Supply | 110V, 60/60 Hz |
| Power  | max. 1,500 WATT |
| Temperature Boiler | 329°F |
| Steam Pressure | 85 PSI |
| Volume Boiler |  .80 Gallon |
| Boiler Material | RVS AISI 304 |
| Heating Up Time  | 9 Minutes |
| Power Vacuum Unit  | Yes |
| Volume Vacuum Unit | max. 1200 WATT |
| Chemical Injection | Yes |
| Volume Chemietank | 1.32 Gallon |